感覚・運動神経科学
スタッフ
| | |
| --- | --- |
| 教授 | 山岨 達也 |
| 准教授 | 岩﨑 真一 |
| 准教授 | 近藤 健二 |

研究概要
音楽の認知、先天性高度難聴児の人工内耳術後の聴覚・言語・音声の発達、音源定位の知覚について、また聴覚、平衡覚、嗅覚の障害の機序、再生について研究を行っている。外科学専攻の耳鼻咽喉科学分野と共同研究をしており、障害を持つ患者のデータも得て、動物のみでなく、ヒトでの解析を行うことで、臨床への応用も目指している。
研究項目
1)人工内耳を用いた聴覚認知、音楽聴取、騒音下聴取
2)聴覚障害・平衡覚障害・嗅覚障害の発症機序の解明・治療法の開発
tansgenic mouse を用いた解析、sirtuin 仮説
3)音声言語障害の評価と治療
4)感覚障害のリハビリの開発

mRNA-loaded polyplex nanomicelles(上段) と naked mRNA (下段)の鼻腔内投与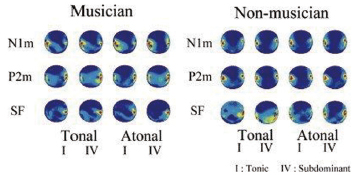 同じ音楽刺激に対するMusician とnon-musicianそれぞれの聴覚誘導磁場反応
Publication list
Anraku Y, et al. Glycaemic control boosts glucosylated nanocarrier crossing the BBB into the brain. Nat Commun. 2017.
Kamogashira T, et al. Functionally and morphologically damaged mitochondria observed in auditory cells under senescence-inducing stress. NPJ Aging Mech Dis. 2017.
Fujimoto C, et al. Autophagy is essential for hearing in mice. Cell Death Dis. 2017.
Matsumoto Y, et al. Vascular bursts enhance permeability of tumour blood vessels and improve nanoparticle delivery. Nat Nanotechnol. 2016.
Kikuta S, et al. Sensory deprivation disrupts homeostatic regeneration of newly generated olfactory sensory neurons after injury in adult mice. J. Neurosci. 2015.
Baba M, et al. Treatment of neurological disorders by introducing mRNA in vivo using polyplex nanomicelles. J Control Release 2015.
Amemiya K, et al. Distinct neural mechanisms of tonal processing between musicians and non-musicians. Clin Neurophysiol. 2014.
Iwasaki S, et al. Noisy vestibular stimulation improves body balance in bilateral vestibulopathy. Neurology 2014.
Kikuta S, et al. Odorant response properties of individual neurons in an olfactory glomerular module. Neuron 2013.
Karino S, et al. Axonal branching patterns as sources of delay in the mammalian auditory brainstem: a re-examination. J Neurosci. 2011.
Kikuta S, et al. Neurons in the anterior olfactory nucleus pars externa detect right or left localization of odor sources. PNAS 2010.
Someya S, et al. Age-related hearing loss in C57BL/6J mice is mediated by Bak-dependent mitochondrial apoptosis. PNAS 2009.
連絡先
E-mail
tyamasoba-tky@umin.ac.jp