脳神経外科学
スタッフ
| | |
| --- | --- |
| 教授 | 斉藤 延人 |
| 准教授 | 中冨 浩文 |
| 講師 | 辛 正廣 |
| 講師 | 武笠 晃丈 |

研究概要
脳の世紀といわれる21世紀において、神経科学を外科的な側面から追究すべく臨床・研究・教育を行っている。頭蓋底腫瘍や悪性神経膠腫等の集学的治療に代表される高度な臨床医療、また臨床から派生する脳腫瘍や神経幹細胞の実験的研究を行っている。
研究項目
悪性脳腫瘍治療のためのシステム生物学的アプローチ
次世代シーケンサーを用いた脳神経外科疾患の遺伝子解析
皮質脳波解析による高次脳機能ネットワークの解明
3D-VR 技術を導入した手術シミュレーション法の開発
虚血性神経細胞死のメカニズムの解明
脳虚血後の神経再生の研究
脳血管内治療用ステントの開発
治療困難な頭蓋底腫瘍・頭蓋底血管病変に対する治療法の開発
てんかんを含めた機能脳神経外科治療の開発
ガンマナイフの臨床研究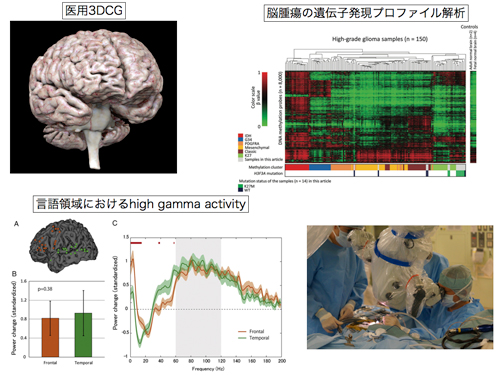 Publication list
Johnson BE, Mazor T, Hong C, Barnes M, Aihara K, McLean CY, Fouse SD, Yamamoto S, Ueda H, Tatsuno K, Asthana S, Jalbert LE, Nelson SJ, Bollen AW, Gustafson WC, Charron E, Weiss WA, Smirnov IV, Song JS, Olshen AB, Cha S, Zhao Y, Moore RA, Mungall AJ, Jones SJ, Hirst M, Marra MA, Saito N, Aburatani H, Mukasa A, Berger MS, Chang SM, Taylor BS, and Costello JF. Mutational analysis reveals the origin and therapy-driven evolution of recurrent glioma. Science 343(6167): 189-93, 2014.
Matsuo T, Kawasaki K, Kawai K, Majima K, Masuda H, Murakami H, Kunii N, Kamitani Y, Kameyama S, Saito N, Hasegawa I. Alternating zones selective to faces and written words in the human ventral occipitotemporal cortex. Cereb Cortex 25(5):1265-1277, 2015.
Miyawaki S, Imai H, Shimizu M, Yagi S, Ono H, Mukasa A, Nakatomi H, Shimizu T, and Saito N. Genetic variant RNF213 c.14576G>A in various phenotypes of intracranial major artery stenosis/occlusion. Stroke 44(10): 2894-7, 2013.
Hanakita S, Koga T, Shin M, Igaki H, Saito N. Application of single-stage stereotactic radiosurgery for cerebral arteriovenous malformations >10 cm3. Stroke. 45(12):3543-3548, 2014.
Yoshino M, Kin T, Ito A, Saito T, Nakagawa D, Ino K, Kamada K, Mori H, Kunimatsu A, Nakatomi H, Oyama H, Saito N. Combined use of diffusion tensor tractography and multifused contrast-enhanced FIESTA for predicting facial and cochlear nerve positions in relation to vestibular schwannoma. J Neurosurg. 123(6):1480-1488, 2015.
連絡先
E-mail
nsaito-tky@umin.net