Neurosurgery
Staff
| | |
| --- | --- |
| Prof. | Saito, Nobuhito |
| Lecturer | Tanaka, Shota |
| Lecturer | Miyawaki, Satoru |
| Lecturer | Kunii, Naoto |

Overview
The 21st century has been designated as "The Century of the Brain". To lead Japanese surgical neuroscience, we have devoted our activities to the following: advanced clinical neurosurgery, neuroscience research and graduate and postgraduate education.
Projects
Skull base surgery in managing benign or malignant skull base tumors and cerebrovascular disorders
Genetic analysis of cerebrovascular diseases and benign brain tumors
Functional neurosurgery including epilepsy surgery
Multi-omics analysis of brain tumors (genetic analysis)
Development of new therapeutic strategies for malignant brain tumors
Development of novel fluorescence probes for brain tumors
Radiogenomics of brain tumors
Clinical study on gamma-knife surgery
Application of brain functional imaging for neurosurgery
Application of VR technology for surgical simulation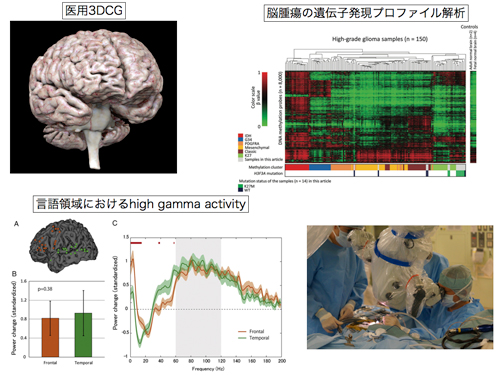 Publication list
Kiyofuji S, Kin T, Saito T, Koike T, Takeda Y, Uchida T, Sato K, Shono N, Niwa R, Furuta Y, and Saito N. Invention of an Online Interactive Virtual Neurosurgery Simulator With Audiovisual Capture for Tactile Feedback. Oper Neurosurg (Hagerstown) 24(2): 194-200, 2023. doi: 10.1227/ons.0000000000000474.
Takami H, Mukasa A, Takayanagi S, Koike T, Matsuura R, Ikemura M, Ushiku T, Yoshikawa G, Shibahara J, Tanaka S, and Saito N. Morphologically, genetically and spatially mixed astrocytoma and oligodendroglioma; chronological acquisition of 1p/19q codeletion and CDKN2A deletion: a case report. Brain Tumor Pathol 40(1): 26-34, 2023. doi: 10.1007/s10014-022-00448-z.
Hongo H, Miyawaki S, Teranishi Y, Mitsui J, Katoh H, Komura D, Tsubota K, Matsukawa T, Watanabe M, Kurita M, Yoshimura J, Dofuku S, Ohara K, Ishigami D, Okano A, Kato M, Hakuno F, Takahashi A, Kunita A, Ishiura H, Shin M, Nakatomi H, Nagao T, Goto H, Takahashi SI, Ushiku T, Ishikawa S, Okazaki M, Morishita S, Tsuji S, and Saito N. Somatic GJA4 gain-of-function mutation in orbital cavernous venous malformations. Angiogenesis, 2022. doi: 10.1007/s10456-022-09846-5.
Nagata K, Kunii N, Shimada S, Fujitani S, Takasago M, and Saito N. Spatiotemporal target selection for intracranial neural decoding of abstract and concrete semantics. Cereb Cortex 32(24): 5544-5554, 2022. doi: 10.1093/cercor/bhac034.
Teranishi Y, Miyawaki S, Hongo H, Dofuku S, Okano A, Takayanagi S, Ota T, Yoshimura J, Qu W, Mitsui J, Nakatomi H, Morishita S, Tsuji S, and Saito N. Targeted deep sequencing of DNA from multiple tissue types improves the diagnostic rate and reveals a highly diverse phenotype of mosaic neurofibromatosis type 2. J Med Genet 58(10): 701-711, 2021. doi: 10.1136/jmedgenet-2020-106973.
Kitagawa Y, Tanaka S, Kuriki Y, Yamamoto K, Ogasawara A, Nejo T, Matsuura R, Koike T, Hana T, Takahashi S, Nomura M, Takayanagi S, Mukasa A, Kamiya M, Urano Y, and Saito N. Spray Fluorescent Probes for Fluorescence-Guided Neurosurgery. Front Oncol 9: 727, 2019. doi: 10.3389/fonc.2019.00727.
Contact
E-mail
nsaito-tky@umin.net