Neurology
Staff
| | |
| --- | --- |
| Prof. | Tatsushi Toda |
| Assoc. Prof. | Wataru Satake |
| Lecturer | Masashi Hamada |
| Lecturer | Hiroyuki Ishiura |

Overview
Our Department is promoting research programs to elucidate the pathophysiological mechanisms of neurological diseases including neurodegenerative diseases, immune-mediated diseases and neuromuscular diseases, and to establish therapeutic approaches for these diseases. We are also providing excellent programs to train of neurologists to meet human society-imposed needs.
Global COE
Global Center of Education and Research for Chemical Biology of the Diseases

Projects
Molecular Genetics (identification of diseases, genes and development of therapeutic approaches)
Molecular pathophysiology of neurological diseases (based on single cell analysis)
Immune-mediated diseases (autoantibodies, glycoconjugates)
Neurophysiology and cognitive neuroscience (magnetic stimulation, NIRS, MEG, PET, fMRI)
Neuropathology of neuromuscular diseases (pathological studies on biopsy and autopsy materials)
Multicenter-based clinical research
Development of new therapeutics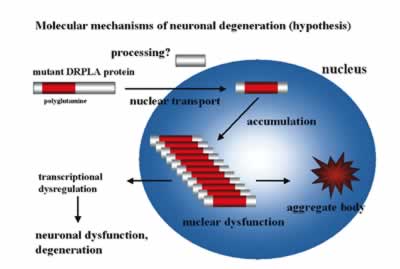 Publication list
Satake W, et al. Genome-wide association study identifies common variants at four loci as genetic risk factors for Parkinson's disease. Nature Genet. 41:1303-1307, 2009.
Taniguchi-Ikeda M, et al. Pathogenic exon-trapping by SVA retrotransposon and rescue in Fukuyama muscular dystrophy. Nature 478:127-131, 2011.
Mitsui J et al. Mutations of COQ2 in familial and sporadic multiple system atrophy. New Engl. J. Med. 369:233-44, 2013.
Iwata A, et al. Altered CpG methylation in sporadic Alzheimer's disease is associated with APP and MAPT dysregulation. Hum Mol Genet 23: 648-656, 2014.
Hamada M, et al. Two Distinct Interneuron Circuits in Human Motor Cortex Are Linked to Different Subsets of Physiological and Behavioral Plasticity. J Neurosci 34: 12837-12849, 2014.
Kanagawa M, et al. Identification of a Post-translational Modification with Ribitol-Phosphate and Its Defect in Muscular Dystrophy. Cell Reports 14:2209-2223, 2016.
Mano T et al. Neuron-specific methylome analysis reveals epigenetic regulation and tau-related dysfunction of BRCA1 in Alzheimer's disease. Proc Natl Acad Sci U S A. 114;E9645-E9654, 2017.
Ishiura H, et al. Expansions of intronic TTTCA and TTTTA repeats in benign adult familial myoclonic epilepsy. Nat Genet 50:581-590, 2018.
Ishiura H, et al. Noncoding CGG repeat expansions in neuronal intranuclear inclusion disease, oculopharyngodistal myopathy and an overlapping disease. Nat Genet 51:1222-1232, 2019.
Matsukawa T, et al. Clinical efficacy of hematopoietic stem cell transplantation for adult adrenoleukodystrophy. Brain Communications 2020 2(1):fcz048.
Naito T, et al. A deep learning method for HLA imputation and trans-ethnic MHC fine-mapping of type 1 diabetes. Nat Commun 12:1639, 2021.
Tokuoka H, et al. CDP-ribitol prodrug treatment ameliorates ISPD-deficient muscular dystrophy mouse model. Nat Commun. 13:1847, 2022.
Sekiya H, et al. Discrepancy between distribution of alpha-synuclein oligomers and Lewy-related pathology in Parkinson's disease. Acta Neuropathol Commun. 10:133. 2022.
Contact
E-mail
tsuji@m.u-tokyo.ac.jp